Food Hygiene News - July 12, 2019
Posted by Balanced Blends Inc. on
 Food Hygiene News - July 12, 2019 Edition
HUGE Hamburger and Hot Dog bun recall
Flowers Foods is having a recall of their hamburger and hotdog buns, sold in various states under various brand names, due to unintentional plastic pieces in the buns. So far, there are no injuries that were reported, but it's worth checking the list of recalled items to make sure you don't have any of those products in your pantry.
https://www.foodsafetynews.com/2019/07/walmart-wonder-7-eleven-other-brands-of-buns-recalled-for-plastic-bits/
Up to 20 years in prison for "Ice Cream Licking"
A teenager is facing 20 possible years in prison for the crime of licking some Blue Bell ice cream and putting it back into the freezer. What's interesting is in 2015, Blue Bell ice cream was contaminated with listeria, and 10 people ended up in the hospital, but there is no mention of what happens when a company has a recall for something like that.

https://www.foodsafetynews.com/2019/07/20-years-for-licking-ice-cream-0-years-for-10-listeria-illnesses-with-3-deaths/
Pets & Cars & Summer Heat DO NOT MIX
It's July, and it is *hot* outside, but sometimes, people leave their pets in hot cars. What do you do? The Humane Society of America has some great tips for you.

https://www.humanesociety.org/resources/what-do-if-you-see-pet-parked-car
On the Lighter Side
Something I don't think I've ever seen in a video before!
https://www.reddit.com/r/aww/comments/cbothv/a_rare_moment_caught_on_camera/
This photo of a woman feeding the squirrels with a marionette of herself has been around for awhile.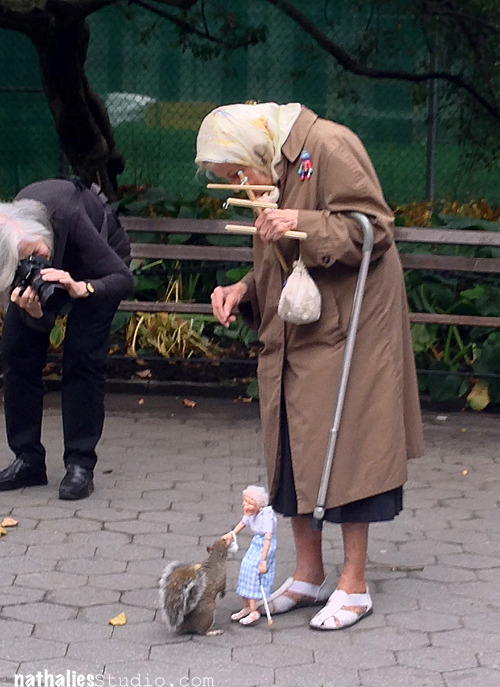 Curious about the story behind it? Read more here!
https://www.nydailynews.com/new-york/puppeteer-once-silent-activist-form-friendship-marionettes-article-1.1484244
Categories: